Other Facilities
Other utilities in the shooting range complex
Entertainment
The company offers total customer satisfaction that's why they also provide other entertainments such as billiards – baby foot – for free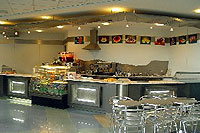 Cafeteria
The Shooting Range Cafeteria offers high level service, serving food and drinks to all customers.
Computers and internet
The management insists in providing every advantage to all customers of the range. A computer is available for members and visitors to browse the internet. The complex provides wireless internet access free, every customer who has a laptop can connect to the internet within the range vicinity only.